Whether you're a pumpkin-spice pusher or an apple aficionado, the fall season certainly brings out the fun family fall activities in Chicago. This year is no exception. We've put together a list of 36 fun things to do in Chicago this fall with your family, from pumpkin patches to great hiking trails. And don't forget to check out our Fall Fun Guide for Chicago Kids for even more seasonal things to do in Chicago.
Please check each venue's website before leaving home to ensure you've booked any necessary reservations and are able to comply with its social distancing and other safety rules that might be in place.
1. Go apple picking
Take a day trip to one of our 14 favorite apple orchards.
 
Beautiful Decay photograph by Joel Porterfield, courtesy of the Forest Preserve District of Cook County.
2. Take a hike
Fall foliage abounds at these amazing nature trails.
3. Get lost in a corn maze. 
We've rounded up some amazing maize mazes in the Chicago area. Some are spooky and some are tame.
4. Hug a scarecrow.
The Morton Arboretum and the suburb of St. Charles have many scarecrows on display throughout October.
 
Oktoberfest photo courtesy of St. Benedict's
5. Give ein Prosit at one of Chicago's Oktoberfest Festivals.
Lincoln Square's German American Fest, Naperville's Oktoberfest, St. Alphonsus Kinderfest at Oktoberfest, and St. Benedict's Oktoberfest are all kid-friendly ways to celebrate German heritage—and beer.
6. Or get a beer in one of our favorite kid-friendly beer gardens or breweries.
From the Loop to Aurora, we've found more than a dozen places to grab a fall brew or cider with kids in tow.
7.  Pick your own pumpkin.
These Chicago-area farms with pumpkin patches help Illinois be the #1 pumpkin-growing state in the country.

 
Photo courtesy of the Chicago Botanic Gardens
8. And see lots of artistically carved pumpkins.
Chicago Botanic Garden's Night of 1,000 Jack-o-Lanterns and Jack's Pumpkin Pop-Up can give you some great ideas for carving your own.
9. Get the inside secrets of Chicago architecture.
Open House Chicago, kicks off online on October 1, with live site visits available October 15 and 16.
 
Visit the Bahai House of Worship at Open House Chicago. Photo courtesy of Wikipedia.
10. Trick or Treat with some wild animals.
Boo at the Zoo takes over at Brookfield Zoo on weekends in October.
Tours of the 150-year-old graveyard that is the final resting place of many famous Chicago architects and politicians run through November 30.
12. Reminisce about high school cross country season.
Celebrate the fall colors at the Morton Arboretum's Fall Colors 5k, or choose from a kids costume dash or 5k at the Roscoe Village 5k Fun Run and Parade.
 
Photo courtesy of the Bank of America Chicago Marathon
The most fun place is on Addison near mile 8, but the runners need you in Chinatown around mile 22. You might just see a world record in the making.
14. Celebrate back-to-school season with a new or new-to-you book.
Printers Row Lit Fest gives families an opportunity to shop for new and second-hand books on the street, and maybe meet some of their favorite authors.
Chicago is home to some amazing museums and exhibits that are always changing for the season. There's a museum or exhibit in the city that everyone in the family will enjoy. Check out our museum guide here. 

Photo courtesy of the Field Museum.
16. Get carry out—to the street.
Extending the pandemic tradition, diners can eat out on North Broadway Avenue or North Sheffield with more than 30 restaurants offering seating on closed streets in the Lakeview neighborhood September 17-19. Or, dine outdoors with kids at one of these Chicago-Area Outdoor Restaurants.
17. Squeeze in one last movie in the park or at the drive-in.
Chicago Park District Movies in the Park runs through September 14, and drive-ins are open through October.
18. See a parade on State Street or the Mag Mile.
The Columbus Day Parade and the Thanksgiving Parade are annual favorites in the city.
19. Check out some art at several annual art festivals.
The Lakeview East Festival of the Arts, Ravenswood Art Walk, LaGrange's West End Art Festival, or Warrenville's Art on the Prairie.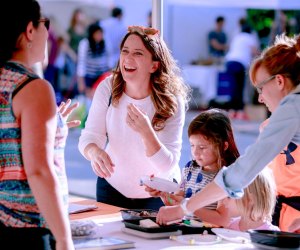 Photo courtesy of the 2017 Ravenswood Art Walk.
20. Go hog wild visiting one of the Chicago area's best farms.
We've rounded up a list of 10 farms near Chicago for harvest time fun.
21. Take advantage of earlier sunsets by attending an astronomy event.
The Chicago Park District hosts several Astronomy in the Parks events throughout September and October.
22. Watch some resident or migratory birds.
Dan Ryan Woods hosts weekly bird walks for little naturalists and their families.
23. Go on a tractor drawn wagon ride to explore one of DuPage County's Forest Preserves.
Weekly rides at Danada Equestrian Center and St. James Farm give families a tour of historic farms and trees.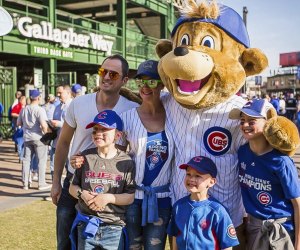 Photo courtesy of Gallagher Way
24. Visit Wrigleyville and watch a Big Ten football game.
Northwestern University takes on Purdue University on November 20 and the University of Illinois on November 27.
Northerly Island, Warrenville's Blackwell Forest Preserve, and Palos Heights' Lake Katherine offer family fishing days throughout fall. Check out our full list of family-friendly fishing spots here. 
26. Switch from hotdog mode to deep-dish pizza mode.
Get a slice of Chicago-style pizza pie at Lou Malnati's or Giordano's. We also recommend Pequod's or The Original Pizzeria Uno or Due, who claims to have invented deep dish. Prefer to make pizza at home? Check out our Quick Pizzas and Pizza Dough Recipes that are easy to make with kids.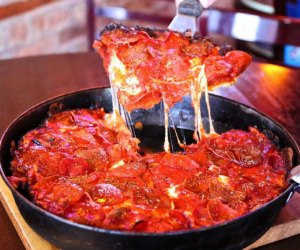 Photo courtesy of Pequod's Pizza, Chicago.
27. Head out to kitschy northwest suburban Long Grove for a rustic festival.
Irish Days, Apple Fest, and Scarecrow Day are all in September and October. 
28. See a show on the lawn at Ravinia.
There are still chances to introduce your kids to the amazing line-up at Ravinia. Grab a picnic blanket and some snacks and enjoy live music under the starts. 
29. Celebrate Dia de los Muertas.
The Day of the Dead is a big deal at a one-day celebration at McKinley Park or a monthlong fest in Aurora.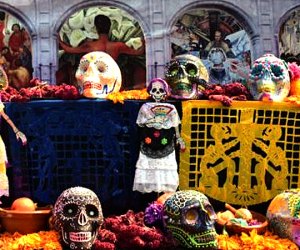 The Day of the Dead celebration in McKinley Park, photo courtesy of the Chicago Park District.
30. Watch Beatrix Potter come to life at the Chicago Children's Theatre
The theater returns to in-person performances after an 18-month hiatus.
31. Taste apple cider or pumpkin donuts from one of Chicago's favorite bakeries.
Firecakes, Do-Rite, and Stan's all have seasonal favorites. Hinsdale's My Donut Lady is also worth the trip to the suburbs.
Bike the Drive has also been moved to Labor Day this year.
 
Explore the Human+Nature exhibit, photo courtesy of the Morton Arboretum.
33. Check out the fall colors and the new sculptures at The Morton Arboretum.
The Human+Nature exhibit features five sculptures showing relationships between trees and people hidden throughout the arboretum.
34. Explore Chicago parks while seeing a free circus.
The Midnight Circus travels to 14 Chicago parks throughout September and October, featuring an eclectic group of performers who aspire to inspire.
35. Learn about where monarch butterflies are in their migration.
The Forest Preserve District of Cook County hosts events in River Forest and Lemont to learn more about our orange-winged friends.
 
Photo courtesy of the Chicago Botanic Garden
Tours will explore a different area of the garden each month.