Filled with family-friendly things to do, Bay Ridge, Brooklyn is the perfect compromise between city and suburban living making it a great place to raise kids. Bay Ridge is ethnically diverse, relatively affordable, and easily accessible. There are quaint townhouses on its side streets and lots of cute mom-and-pop shops and good restaurants on its commercial avenues, plus a strip of big chains on 86th Street. Though many residents have cars, they aren't necessary. The neighborhood's top things to do are all just a short walk away, and the R and N trains offer a direct commute from Bay Ridge, Brooklyn to or from Manhattan.
Bay Ridge, Brooklyn also boasts tons of green space, playgrounds, and epic sledding hills, plus fun annual family events, and awesome views of New York Bay and Lower Manhattan.
Here are our top picks for things to do in Bay Ridge, Brooklyn with kids. Find more unique NYC enclaves to explore in our Guide to Family-Friendly Neighborhoods in NYC.
Subscribe to our newsletters to get stories like this delivered directly to your inbox.
For the purposes of this post, we're defining Bay Ridge, Brooklyn's geographical boundaries as 65th Street to the north, Seventh Avenue and Grimes Road to the east, and the water to the west and south.
Best Things To Do in Bay Ridge, Brooklyn with Kids
Enjoy story time and a well-stocked children's section at this Brooklyn Public Library branch.
Catch a flick at this neighborhood theater.
3. Bay Ridge Aquatics Institute
Enroll your kids in swimming lessons at BRAINS, the Bay Ridge Aquatics Institute.
RELATED: Best of Brooklyn: 50 Things To Do with Kids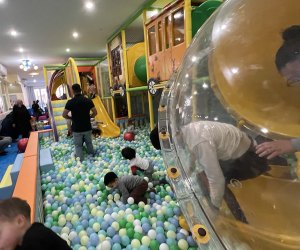 Ball pits, climbers, and fun galore await at Bay Ridge play space Fairytale Island. Photo courtesy of the venue
This huge indoor play space has tons of activities to keep your child engaged and busy. Enjoy coffee and treats at the adjacent cafe.
Don your best green livery and partake in the annual St. Patrick's Day Parade.
6. Outdoor Festivals
Check out a wide variety of FREE outdoor fests every summer, including the concert series at 79th Street and Shore Road, Summer Stroll, and the Greater Bay Ridge 4th of July Picnic.
RELATED: Best Indoor Playgrounds in Brooklyn


March in the annual Bay Ridge Ragamuffin Parade, which kicks off the Halloween season with an early October procession.
Put on your best costumes and hit Third Avenue for the annual Ragamuffin Parade in the early fall, a neighborhood tradition since 1967.
Peruse the children's section, or check the calendar for kids' readings and activities at the indie bookshop BookMark Shoppe.
Learn how our armed forces defended our waterways at NYC's only military museum.
RELATED: Brooklyn and Queens Beer Gardens Where Kids Are Welcome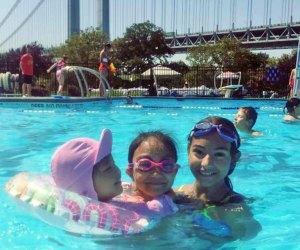 Take a dip at the Fort Hamilton Community Club pool. Photo by Janice Kim
10. Fort Hamilton Community Club
Join the Fort Hamilton Community Club and enjoy the outdoor pool, fitness room, bowling, and community events.
11. Beautiful Architecture
Gawk at the swanky mansions on Shore Road between 80th and 83rd Streets and the nearby Gingerbread House at 8200 Narrows Avenue.
12. Holiday Lights
Although not as over-the-top as neighboring Dyker Heights, Bay Ridge residents put up some pretty extravagant holiday displays.
RELATED: 10 NYC Ferry Rides with Kid-Friendly Stops to Explore


Bay Ridge's parks have epic sledding hills, and the backdrop can't be beat on a snow-covered day.
Best Parks and Playgrounds in Bay Ridge, Brooklyn
Explore the 24-plus-acre Owl's Head Park, which includes two playgrounds, a popular skate park, great sledding hills, and gorgeous views of Lower Manhattan and New York Bay.
Check out this lesser-known neighborhood romping spot which was named after a local resident.
RELATED: Kid-Friendly Waterfront Restaurants in NYC


Grab a scooter and explore the waterfront promenade at Shore Road Park. Photo by Diana Kim
Bike along the waterfront, play basketball, tennis, or baseball, or romp within view of the Verrazano-Narrows Bridge in the 58-acre Shore Road Park.
Another neighborhood gem, McKinley Park is a great spot to play sports like softball and baseball. It features a high-quality synthetic turf ball field and there's an expansive lawn with large trees and rolling hills for kids to run around.
RELATED: 17 Things To Do with Kids at Industry City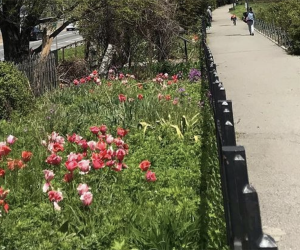 The Narrows Botanical Garden is a charming spot to stop and smell the roses. Photo courtesy of the garden
Stop and smell the flowers at the volunteer-run Narrows Botanical Gardens, which offers various family-friendly programming and events.
Bring your camera to the 69th Street Pier (officially named the American Veterans Memorial Pier), where you can fish, watch the boats go by, pose in front of the downtown Manhattan skyline, or hop aboard the NYC Ferry.
Go locavore at the Bay Ridge Greenmarket every Saturday from May through November—kids love the free apple and tomato tastings.
RELATED: Dumbo with Kids: 50 Fun Things To Do for Families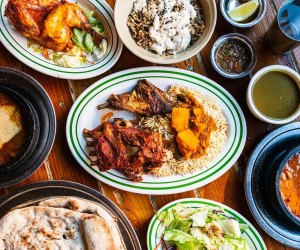 Fresh, flavorful food is on the menu at the authentic Yemen Cafe. Photo courtesy of the restaurant
Family-Friendly Restaurants in Bay Ridge, Brooklyn
This local establishment serves authentic Yemeni food at excellent prices. The large portions are perfect for sharing, and the atmosphere is casual and jovial.
This Irish pub has a warm, welcoming atmosphere for families and serves delicious burgers. Kids also love the array of pies on the menu.
RELATED: Kid-Friendly Coffee Shops in NYC


Vesuvio offers the cure for Italian cravings whether you want pizza or pasta for take out, delivery, or sit-down service. Photo courtesy of the restaurant
Families looking for pizza and old-school Italian have been heading to Vesuvio for nearly 70 years.
Enjoy sweet treats at this Scandinavian bakery including Danishes, freshly-baked bread, cookies, and cakes.
Kids are welcome at this cafe specializing in farm-to-table dishes. There's a small play area for kids while waiting for their French toast.
First published in 2013.