So you've seen all of Chicago's top tourist attractions and are ready to look at a different neighborhood? Think Lincoln Park! Whether your family enjoys the outdoors, theater, food, or festivals, Lincoln Park has options to please a variety of kids. It's bound by Lake Michigan to the east and the Chicago River to the west. While most people agree that the northern border is Diversey Avenue, we can't all agree whether the southern border is North Avenue or closer to 1800 North. We still think of the Chicago History Museum and Second City as Old Town, so look for those in a future round up.
In addition to the Lincoln Park Zoo, a few museums, a conservatory, and a couple of theaters, Lincoln Park has lots of fun and kid-friendly options for dining, from pizza to hot dogs to cupcakes. We recommend going during the summer to be able to visit the beach and Green City Market, and to try out one of the neighborhood festivals, but Lincoln Park is a vibrant community all year round.
Fore more recommendations in Chicago's neighborhoods, check out our Visitors Guide.
 How to Get There and Where to Stay
You can drive to Lincoln Park, but we don't recommend it unless you have a Spot Hero booked in advance. Street parking is hard to come by and you'll have to be an expert to parallel park along the side streets. Instead, take the Brown or Purple Line to Armitage, Fullerton, or Diversey. The Red Line also stops at Fullerton. For locations closer to the Lake, you'd be better served by the Broadway Bus (#36) or the Clark Bus (#22). They make a lot of stops, but they'll drop you off close to your destination. The #151 and #156 are good options from the downtown Metra stations if you're arriving from the suburbs.
The hotels in the Lincoln Park area are smaller and offer an urban neighborhood feel. Try The Neighborhood Hotel at 2616 N. Clark for unique suites in a historic building in the heart of the neighborhood. The Hotel Lincoln at 1816 N. Clark is a short walk from Lincoln Park Zoo, and although its rooms are small, its boutique feel and location give a true sense of what it's like to live in Lincoln Park.
Top Places to Go in Lincoln Square With Kids
 
Lincoln Park Zoo photo by Maureen Wilkey
We all know kids love zoos, but parents will love this one, too, because it's FREE! Plus, there's a new lion exhibit, gorillas, flamingos, and even a farm for those of you who live so far inside of I-290 that you've never seen a cow. We've covered the whole zoo in this review.
Okay, technically this is part of the Zoo, but we feel like it could be its own separate event. See and learn about the plants, aquatic life, and birds that live in and around the lagoon just west of Lake Michigan. You'll really get to know why Chicago is known as the City in a Garden. Plant lovers of all ages can enjoy tours every second Saturday of the month.
 
Photo courtesy of the Peggy Notebaert Nature Museum 
Just north of the Zoo, this beautiful building gives kids the opportunity to learn about nature in their own backyard. Don't miss the daily butterfly release in the butterfly haven daily at 2 p.m. Kids will also enjoy exhibits on weather, climate, rivers, and animals. The museum is currently undergoing renovations to open new exhibits in summer 2022 and early 2023.
 
North Avenue Beach photo courtesy of the Chicago Park District
We all think of North Avenue as Old Town, but this beach stretches north to Fullerton, making its northern half solidly in Lincoln Park. In addition to the traditional sunbathing and swimming, families can also enjoy bike rentals from Lakeshore Bike 'n Tune, yoga from Sun and Moon Beach Yoga, and kayak and paddleboard rentals. There are also lots of concessions, from hot dogs on a stick to frozen treats from bicycle-based vendors.
Author Frank L. Baum once lived in Chicago, several miles west of the park now named for his most famous book. In this park, near Armitage and Lincoln, kids can search for statues of the Tin Man, Scarecrow, Cowardly Lion, and Dorothy and Toto, explore the Emerald Garden, and play on Dorothy's Playlot.  A concession stand and tennis courts complete the fun.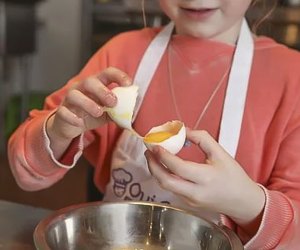 Photo courtesy of Oui Chef
Little ones can learn to cook from a classically trained chef at this Halsted Street Kitchen. Locals can sign up for recurring classes, while those just in town for the day can try a one-off class for their preschooler to learn to make a snack or treat.
Chicagoans who miss the beauty of the parks in the winter would benefit from a visit to this four-room greenhouse. Celebrating plants from around the world, the Lincoln Park Conservatry houses palms, ferns, orchids, and a show house, which hosts rotating shows throughout the year. 
 
Photo courtesy of Green City Market
Dozens of local vendors serve up their baked goods, dairy, flowers, produce, meats, poultry, honey, jams, and more at this weekly (and sometimes twice weekly) market in Lincoln Park from April through October. The market takes place on Saturday mornings throughout the season and also on Wednesdays during peak summer months. Kids can visit Club Sprouts to learn more about the foods they eat and how they are produced, and the whole family can enjoy cooking demos throughout the market.
This Chicago Park District owned theater hosts a variety of different shows against the backdrop of Lake Michigan at the north end of North Avenue Beach. Families can hear a variety of musical acts, see guest plays from theater groups around the city, or dine in the Theater on the Lake's restaurant. 
 
Knuffle Bunny production photo courtesy of the Young People's Theater of Chicago
Home to Young People's Theater of Chicago, this Lincoln Avenue venue almost always has something kid-friendly playing. Theater-loving kids and teens might also like to go upstairs to peruse Trellis, Chicago's only used theater bookshop, where almost everything is under $10.
Festival season kicks of in Lincoln Park with Chicago Mayfest the third weekend in May, followed closely by Lincoln Park Greek Fest in early June. Taste of Lincoln Avenue invites families to sample foods from the neighborhood's best restaurants in late July, and you can see the Chicago Air and Water Show from North Avenue Beach during the third weekend in August.
Best Kid-Friendly Restaurants in Lincoln Park
Whether you're into unique pies with toppings like pulled pork and buffalo chicken or more straightforward fare, there's something for the whole family at this kitschy pizza joint that's visible from the L. Fun drinks for grown-ups and a filling brunch menu complete the experience. 
 
Photo courteys of  R.J. Grunts
The original Lettuce Entertain You Restaurant has been at this location for more than 50 years. R.J. Grunts now features a salad bar that you can order from your phone (thanks, COVID) and some of the best chicken wings in Chicago. Kids may enjoy the nachos, burgers, or sandwiches. 
Are you a fan of cured meats? You're in Chicago, so of course you are. Chicago Pizza and Oven Grinder Company serves them in ways you may never have dreamed of. The titular oven grinder is an Italian loaf stuffed with your choice of ham, salami, meatballs, Italian sausage, Italian cheeses, and vegetables and baked in the oven. You can also try a half-pound or whole pound pizza pot pie. 
Another oldie but goodie, Pequod's has been a Chicago area favorite since 1970. Featuring caramelized-edge deep dish pizzas in a dim bar-like atmosphere, it also offers thin crust for less adventurous kids. Consider going for lunch to take advantage of the $6.95 personal pizza lunch special. (This is an actual personal pizza, not a Bill Murray personal pizza.)
This classic Chicago brunch spot serves amazing pancakes and egg dishes with a solid kids' menu. Make sure you check out the specials—there's always an unexpected treat. The extensive options make it hard to decide on a favorite.
 
Photo courtesy of The Wiener's Circle
Buyer beware: The Wiener's Circle specializes in hot dogs with a side of insults, so if you're protecting little ears, go early. Enjoy char-grilled hot dogs on picnic tables along Clark Street. Parents can come back later for music and comedy to go with sausages and political commentary. 
Pasta-loving kids can get a choice of many different kinds of noodles at this casual joint near Clark and Fullerton. Adults can also enjoy daily drink specials.
 
Photo courtesy of Molly's Cupcakes
Choose from pre-made cupcakes with unique fillings, or order your own and it will be made right in front of you! And what kid doesn't love a sprinkle station for decorating their own cupcakes?
This popular dessert spot offers cupcakes in tradtional chocolate and vanilla or fun flavors like Cookie Monster and Snickerdoodle. Other treats include brownies and bars, cookies, pies, and puddings. Sweet Mandy B's also has gluten free and vegan options for families with special dietary needs. 
Home of the Bubble Waffle, this pandemic-born newcomer serves ice cream in waffle cones or on top of waffles. You can also get an icy drink topped with candy or waffle tower smothered in sweet toppings.