Situated on the outskirts of Southeast Houston in Alvin, Froberg's Farm is home to locally grown produce, homemade baked goods, and good old-fashioned fun! Known primarily for springtime strawberry picking, Froberg's Farm is also home to one of the area's best fall festivals. Each weekend from late September to early November, families can participate in Froberg's fall activities, including a pumpkin patch with plenty of photo ops, flower picking, tons of games, a corn maze, playground, mining sluice, jumping pillow, and more.
Froberg's Farm Fall Festival and Pumpkin Patch Near Houston
Entering the picturesque produce market at Froberg's Farm, fall decor greets each guest, followed by the delicious smells of smokehouse foods and bakery treats. On our recent trip to the fall festival's opening weekend, we made sure to fuel up with some homemade fruit pies and decorated pumpkin cookies before heading "out back" to the fun and games. Inside the market, pumpkins of all shapes and sizes are available for purchase. They even have a few one-of-a-kind varieties, like light-colored tiger pumpkins. Our three-year-old loved marveling at the mountains of pumpkins and assorted gourds as we waited to purchase silver coins to use as game tokens at the festival. 
In 2022, the festival runs each Saturday and Sunday through November 6th, weather permitting, from 9 a.m.-8 p.m. During the week, the festival is open with limited activity options from 9 a.m.-5:30 p.m. Admission is $12 for ages 3 and up.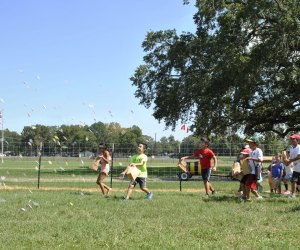 A "candy cannon" launches candy into a field for kids to gather.
Get Corny at Froberg's Berry Fun Land Playground
Once outside, we headed to the Berry Fun Land Playground where we were immediately invited to the launching of a candy cannon that blasted a variety of sweets high into the air for a group of kids to scoop up and into brown paper bags. (Keep an eye out for the old-fashioned strawberry candies – the finders of those got a special treat!) Like a cross between a pinata game and an Easter egg hunt, this candy frenzy is a complete blast! Our next stop at the playground was the corn box, where my children were especially fond of making corn angels in what can only be described as a large, open-air structure filled with loads and loads of corn (think a giant sand box but with corn instead of the sand). They also loved "penguin sliding" down the massive slide and climbing Tire Mountain.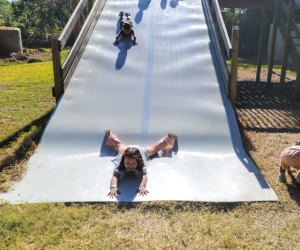 Don't miss the huge slide tucked behind the playground.
Favorite Things to Do at Froberg's Farm Fall Festival
Moving on to the fan-favorites, Froberg's Fall Festival has several star attractions that you can trade in your tokens for, including the bee coaster, friendly fire game, jumping pillow, and emoji cannon. On the bee coaster, kids of all ages can ride in individual barrel seats painted to look like bees being pulled by a tractor. It's slow moving, but has a bumpy, jostling feel that will make even the adults giggle. Friendly fire is basically a giant nerf ball game and is an exciting way to keep older kids entertained while the little ones play the midway games. My favorite pick of the attractions is the jumping pillow. It's a huge, inflatable pillow that puffs up from the ground for kiddos of all ages to bounce and slide on. It was fun to watch and definitely a hit with my kids, both big and small.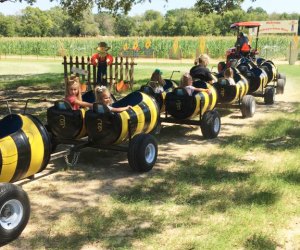 The bumbling bee coaster rides past the corn maze. Photo courtesy Courtney Cauthen.
Stop to Smell the Flowers … And Race the Ducks
The fun doesn't stop there. A personal favorite for me is the flower picking, where you pay tokens per cup and take to the field of bright, colorful zinnias with a pair of scissors (provided) and snip your favorite stems. Sunflower picking is also available at a per-stem rate. The little ones love racing rubber duckies down a pipeline that they fill by pumping water through an old-fashioned pump mechanism. And you won't want to miss out on the gemstone mining, where you can select from gemstone, arrowhead, or fossil mixes (additional cost) and try your hand at sluicing. The smiles that come as the treasures are revealed is worth the damp, dirty hands. 
Froberg's Farm also offers a great pumpkin patch near Houston.
Froberg's Farm Corn Maze and Pumpkin Patch
The crown jewels of this festival have to be the corn maze and the pumpkin patch. At the maze, families trek through rows and rows of tall corn stalks, working their way through various pathways in the shape of a spider web. Our older kids loved leading the way to guide us all through the maze. A map is handed out at the entrance to the farm (note: follow the map's lines, not the spaces!). At the pumpkin patch, various displays are set up for fun photo ops with backgrounds like hay bales, an old-timey farm truck, and painted character cut-outs. This year, we even saw a dinosaur in the patch! Based on (corn-dusty) experience, we recommend taking your pumpkin patch pictures when you get to the farm and picking your take-home pumpkins on your way out so you won't have to lug them around all day. 

With corn fields all around, the corn box and corn maze are must-do activities.
With all the fun things to do, we had a great day outdoors making memories in the cool (ish?) weather. We can't wait to go back with more of our friends and family!
Unless otherwise noted, all photos by Rebecca Ortiz.