No trip to Seoul would be complete without a visit to this massive recreational megaplex. Have fun at Lotte World Adventure, an indoor/outdoor theme park with thrilling roller coasters for older kids and more tame rides for the little ones. Save some energy for the myriad other kid-friendly activities at Lotte World, like indoor ice skating, the Folk Museum, the water park, and plenty of shopping.
Stroll through the alleys and streets of this commercial district to shop for traditional pottery and art, souvenirs, and more. You can also pop into one of the many tea shops, food stalls, and art galleries.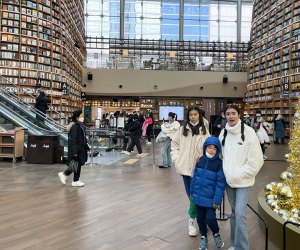 You can get both books and Instagram-worthy photos at Starfield Library.
Visit Starfield Library, a free public library in the middle of the largest underground mall in Seoul. With three towering stacks of books set in a sprawling, light-filled space, the library attracts local and tourists alike and is one of the most popular Instagram spots in Seoul. There are over 50,000 books and nearly 600 domestic and foreign magazines to browse. It's a great spot to relax, take photos, people-watch, or grab a snack and coffee.
RELATED: London With Kids: 60+ Best Things To Do in London on a UK Family Vacation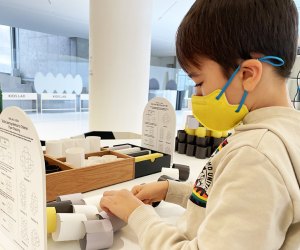 Kids can get hands-on at the Leeum Museum's children's lab.
Best Seoul Museums for Kids
The Leeum, Samsung Museum of Art is a wonderful museum that showcases traditional and contemporary Korean art. It also has a large children's lab where kids can peruse art books, make arts and crafts inspired by the museum's exhibits, and learn more about the museum's artists. Plus, admission is FREE! It's my favorite museum in Seoul.
At this museum, visitors can learn about the military history of the Korean peninsula. Within the memorial is the Children's Museum of the War Memorial of Korea, the first children's museum in the world focusing on war history. The children's museum is filled with interactive exhibits, educational activities, a playground, and videos to keep kids learning and engaged.
RELATED: The Best Children's Museums in the US


The interactive exhibits at the Seoul Children's Museum have English-language explanations and signage.
This children's museum has four floors of interactive exhibits focused on space, art, nature, science, and more. There are also indoor playgrounds, a book lounge, and spaces for children and families to take cooking and movement classes and see performances.
If you want to learn about the breadth and scope of Korean art and culture, the National Museum of Korea is a must-visit. There's a great children's museum inside with several hands-on exhibits, and admission to both is FREE.


Learn how to make kimchi at Museum Kimchikan.
Learn about the history and art of making kimchi—a traditional Korean side dish of fermented vegetables—at this interesting museum. Then, take a class to learn how to make it yourself!
This interactive museum is filled with life-size art and media exhibits, as well as displays designed for unique photo ops. Kids will get a kick out of the cool photo setups and the optical illusions they create.
RELATED: Amsterdam With Kids: 30 Best Things To Do in Amsterdam, the Netherlands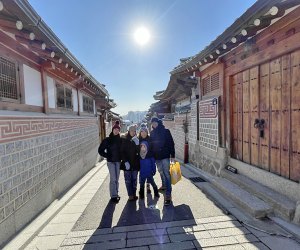 Explore a traditional Korean neighborhood at Bukchon Hanok Village.
Outdoor Things To Do in Seoul with Kids
Step into the past with a stroll around Bukchon Hanok Village, one of Seoul's most picturesque neighborhoods, with traditional Korean houses called hanoks. Have the kids be mindful, as people still live in the houses!
This large park near the Seoul Children's Museum has plenty of things to do with kids, including a zoo, a botanic garden, playgrounds, performance spaces, and an amusement park.
If you're heading to Seoul in the summer, cool off by heading to a public pool or water park. Just know that all swimming pools require guests to wear swimming caps.
17. Han River
There are a ton of family-friendly activities along the Han River, the main river that flows through Seoul. Go biking, picnic, and enjoy various seasonal festivals and performances. Another fun activity is to take a cruise along the river to see many of Seoul's major landmarks. Have some crackers on hand to feed the seagulls that fly alongside the boat.
18. Hiking Trails
Seoul has many great, kid-friendly hiking trails that allow families to take in some of the beautiful, natural scenery of the city. Bukhansan National Park is the most popular hiking destination and has some easy trails for kids.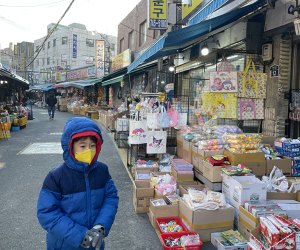 Dongdaemun Market has a whopping 30,000 shops.
More Fun Things To Do in Seoul with Kids
For souvenirs, traditional things you can only get in Korea, and trendy fashion items, go to the massive Dongdaemun Market, Korea's largest wholesale market featuring 26 shopping malls and 30,000 specialty shops. It's open 24 hours a day and is especially known for its night market. While there, take the kids to Dongdaemun Toy and Stationary Market, Korea's largest wholesale toy market. Good luck getting them to leave!
Check out the amazing architecture of this iconic building designed by renowned architect Zaha Hadid, and enjoy the public art installations, food and drink, and shopping. Be sure to take the kids to the Design Playground, a sensory playground where they can engage their senses while playing.
21. Rent Hanboks
Korean traditional outfits are called hanboks, and many shops near the palaces and other tourist areas rent them for very reasonable prices. Wear them while visiting the palaces and other major attractions and score FREE admission.
RELATED: 11 Best US Aquariums for Your Next Family Vacation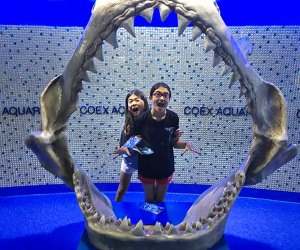 The Coex Aquarium is one of two great aquariums in Seoul, South Korea.
22. Amazing Aquariums
Seoul's two main aquariums are great places to take the kids when you want to beat the heat during the summer or keep warm in the winter. There's the Lotte World Aquarium, which you can a combine with a trip to Lotte World Adventure, and the Coex Aquarium in the Coex Mall. Both display an impressive array of aquatic wildlife, and keep things interesting and fun for kids with interactive activities and easy-to-understand guides.
23. Kids Cafes
Seoul has some of the best kids cafes—indoor playgrounds where children can run around, jump, climb, and play while parents eat lunch and enjoy some well-earned downtime. Check out Play In Museum (PIM), which boasts the largest ball pit in all of Korea, and Lilliput Kids Cafe, where kids can play dress-up to their hearts' content.
More than a kids cafe, KidZania is a theme park where children can experience more than 90 real-world occupations to earn KidZos, KidZania's special currency. Children can try their hand at being a flight attendant, a firefighter, a construction worker, a TV anchor, and many more. The park was created in conjunction with actual businesses to give kids as realistic an experience as possible.
Learn how Korean people lived before modern times at Korean Folk Village, where you'll get a taste of traditional Korean life. Kids will get to explore traditional Korean customs through architecture, food, musical performances, and food tastings.


Gangnam's "Hallyuwood Walk of Fame'"pays homage to K-Pop stars
26. K-Star Road
Experience K-pop where it all began by strolling down K-Star Road in Gangnam, where the majority of Korean entertainment companies are located. Snap a pic with your favorite K-pop stars—or at least their teddy bear counterparts!
One of our favorite activities was seeing a traditional Korean dance performance at Korea House, complete with traditional instruments, costumes, music, and storytelling.
If your kids enjoy musical theater, they'll love the NANTAshow. It's a rousing performance involving kitchen tools, acrobatics, comedy, and music.
RELATED: 50 Fun Things To Do in Paris with Kids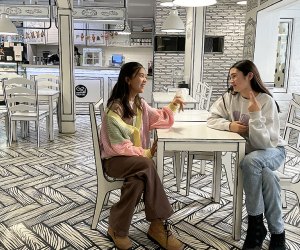 Snap some memorable pics in the 2D world of the Greem Cafe. 
Seoul is home to numerous themed cafes with the most amazing decor, making for some Instagram-worthy pics. The treats and coffee are delicious, to boot. My older kids loved Greem Cafe, which is made to look as if you've stepped into a 2D world. If it looks familiar, one of the scenes from the third installment of Netflix's To All the Boys I've Loved Before was shot there.
30. Photo Booths
Photo booths are all the rage for kids and teens in Korea. There are a ton of them everywhere in Seoul, and for a few bucks, you can adorn yourself with various themed accessories and take cute photos that are ready in minutes.
31. Animal Cafes
If your kids love animals, Seoul has plenty of animal cafes as well. There are cat cafes and dog cafes, but there are also ones where you can pet and interact with other types of animals. At Thanks Nature Cafe, you can pet sheep while sipping your latte. At Table A, explore four floors of interactive spaces and see over 40 kinds of animals, including dogs, cats, raccoons, and desert foxes.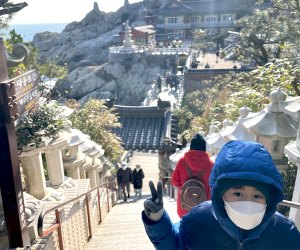 Visit the Haedong Yonggungsa Buddhist Temple in Busan.
Fun Day Trips From Seoul for Families
32. Busan
One of our favorite activities was taking the KTX Train to Busan for an overnight trip to explore Korea's second-largest city. Make sure to stroll through the colorful Gamcheon Village in Busan, which once housed refugees from the Korean War.
For another great day trip from Seoul, Nami Island is the perfect year-round destination to take in beautiful scenery. Just an hour outside of Seoul, the little island has lots of small trails, kids' activities, and eateries.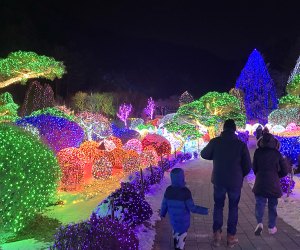 The Garden of Morning Calm is especially beautiful when it's all lit up in winter.
Combine your trip to Nami Island with a visit to one of Korea's most beautiful private gardens. If you're visiting during the winter, don't miss out on the light show, which my kids absolutely loved.
If your kids can't get enough K-pop, it's worth visiting the K-Pop Museum in Gyeongju, about four hours outside of Seoul. The museum traces the evolution of Korean popular music, from its beginnings to the formation of current K-pop groups.