This St. Louis gem has been around since 1859, making it one of the nation's oldest botanical gardens still in use. With 79 acres of foliage, it's considered to be one of the top three botanical gardens in the world. The Missouri Botanical Gardens feature a Japanese garden, a dome conservatory called the Climatron, and a children's garden. Visitors can see everything from water lilies to roses to crepe myrtle.
The Muny is America's oldest and largest outdoor theater. An amphitheater with 1,500 free seats (available on a first-come, first-served basis), the Muny puts on a variety of musicals, which in the past has included Disney and Cameron Macintosh's Mary Poppins, Legally Blonde, Joseph and the Amazing Technicolor Dreamcoat, and more. The theater has been bringing a little Broadway to Forest Park for over 100 years.

Climbing opportunities abound at City Museum.
A 100-year-old former shoe warehouse in St. Louis, this one-of-a-kind building features all kinds of fascinating attractions, including mostly re-purposed industrial objects. The eccentric museum has four floors of tunnels, caves, and slides, as well as eye-catching objects like a Ferris wheel perched on the rooftop and a bus teetering off its edge. Toddler Town Area is a play space just for kids ages 6 and under. Wear sturdy sneakers and self-protective clothing—you don't want a friction burn going down the slides!
Related: 12 Family-Friendly Summer Weekend Getaways Near Chicago

The St. Louis Aquarium is one of the best things to do in St. Louis Union Station with kids.
Once a bustling railway terminal, St. Louis Union Station is a fantastic one-stop location for an entire day of fun. It features incredible attractions such as the St. Louis Aquarium (housing 13,000 animals and six galleries of oceanic wonders), the 200-foot-tall St. Louis Wheel, a carousel, a ropes course, an 18-hole mini golf course, a mirror maze, a train park, and an assortment of restaurants. Our family favorite is the St. Louis Union Station Soda Fountain, featuring the most over-the-top "freak shakes."
Fun Free Things to Do in St. Louis, MO with Kids
This free museum shares all of St. Louis' riveting history, from the Civil Rights Movement to Cardinals baseball. The kid-friendly History Clubhouse, open Tuesdays through Sundays, features iconic buildings, the World's Fair, a steamboat, and a period dress-up section.
This free museum showcases more than 33,000 works of art including a variety of paintings, drawings, sculptures, photography, and cultural phenomena that range across 5,000 years. The St. Louis Art Museum is best for children who are old enough to appreciate art.
Built by Ulysses S. Grant in 1848, this 281-acre historic attraction is free, though parking costs a fee. Grant's Farm houses more than 900 animals including elephants, camels, kangaroos, goats, peacocks, famous Budweiser Clydesdales, and more. The property also features two historic homes that visitors can tour with a guide to get a feel for everyday living during the 1800s. For a small fee, kids can ride the carousel or feed the goats, camels, llamas, sheep, and small cattle. The farm is open April through early November, and adults can receive two free samples of Anheuser-Busch beer at the hospitality bar in the beer garden.
City Garden is an urban sculpture park with fountains, gardens, and art. Young children will enjoy splashing around in the 102-fountain spray plaza. Families can also check out the 24 sculptures, six rain gardens, and the 180-foot-long pool and six-foot waterfall. The park contains over 235 trees, plants, flowers, and shrubs, and its's open every day year-round. Tours that teach visitors about the garden's sculptures, design, and landscaping are available, but must be booked two weeks in advance.
Spanning over 300 acres just outside St. Louis, Purina Farms celebrates the way animals enrich our lives. The farm offers guests first-hand encounters with animals, educational exhibits, world-class dog shows at the Incredible Dog Arena, trainer talks, and attractions that include milking a cow, animal-petting arenas, a play kitchen, a hayloft play area, and wagon rides.
Related: 100 Things To Do in Chicago with Kids Before They Grow Up

Take a free and delicious tour of Chocolate, Chocolate, Chocolate Factory.
Free tours of this chocolate factory happen every half hour on Mondays through Fridays from 9am-2:30pm and Saturdays from 9am-1pm, with a reservation required on weekends. During the 15- to 20-minute tours guest can see, hear, smell, touch, and taste chocolate as it's being crafted into masterpieces. The family-run company creates delectable artisan chocolate including bars, truffles, caramels, and peanut butter cups. It prides itself on using only clean and Fair Trade-certified ingredients. Visitors get one piece of chocolate to sample at the end of the tour, and if you're left craving more, you can purchase a ticket to sample five more pieces in the tasting room.
The 546-acre Lone Elk Park in Valley Park, Missouri offers a free drive-thru experience that allows guests to get up close to wildlife including elk, bison, raccoons, turkeys, ducks, and geese. It takes about 20 to 30 minutes to drive through the park. You can also cycle, hike one of the two on-site trails, or picnic on the grounds. The park is also home to the World Bird Sanctuary, where visitors can observe and learn about owls. Lone Elk Park is open daily.
Check out Castlewood State Park for its hiking, mountain-biking, and equestrian trails. Occupying 1,818 acres, Castlewood also allows you to fish and boat on the Meramec River. The park's history is fascinating, as it once housed many hotels and clubs and was a popular escape for St. Louisans from 1915-1940. The grand staircase that once led guests up to resorts still remains for visitors to climb today (you can access it on the River Scene Trail). The park is open every day.
More Fun Things to Do in St. Louis, MO with Kids
17. See a Baseball Game
Busch Stadium is the home of the 11-time World Series champions the St. Louis Cardinals. The stadium is adjacent to Ballpark Village, which features all kinds of entertainment and dining possibilities as well as the Cardinals Hall of Fame and Museum. No visit to St. Louis is complete without catching a Cardinals game and soaking up some of St. Louis' over-the-top baseball spirit.
18. Catch a Hockey Game
Another sports team worth checking out is the St. Louis Blues National Hockey League team at Enterprise Center. The Blues made history in 2019 when they finally won the coveted Stanley Cup and St. Louis fans crowded the city's streets in exuberant celebration. The Blues' season runs from October to April.
Six Flags St. Louis, located 30 miles southwest of St. Louis in Eureka, Missouri, is sure to please the thrill-seekers in your family. The park features eight themed areas and nine roller coasters. Additionally, a Six Flags St. Louis ticket includes admission to Hurricane Harbor, the adjacent 12-acre water park. Hurricane Harbor offers those looking to escape the summer heat a variety of attractions including a giant wave pool, a children's play area, a family raft ride, a lazy river, three six-story slides, and one 64-foot free-fall slide. The water park is open from Memorial Day weekend through Labor Day.
This museum in Kirkwood features 70 locomotives, planes, historical cars, trolleys, and a tugboat, spanning 15 decades of American history. The Smithsonian calls it one of the "largest and best collections of transportation vehicles in the world." Guests can walk through many of the museum's massive trains. For an additional fee, kids can ride a miniature train or enjoy the Creation Station, a fantastic play area where they can build trains.The museum, with its many outdoor exhibits, is open from March through October.
Formerly a 1920s movie palace, this performing-arts center brings Broadway to St. Louis. Past shows have included Hamilton, Disney's The Lion King, A Christmas Carol, Disney's Frozen, and more. On Saturdays, guests can take a 90-minute tour of the theater that includes an organ concert.
Related: The Best Children's Museums in the US

The Magic House made our list of the best children's museums in the US.
This not-for-profit museum in Kirkwood, Missouri encourages hands-on learning with exhibits that include a childhood learning lab, a children's village, a nature play space, an art studio, a bubble room, a kids' construction zone, and more. If you are willing to travel a little further up the road, the Magic House operates MADE for Kids, a maker space where kids can paint, sculpt, design, and build.
At the Sophia M. Sachs Butterfly House in Chesterfield's Faust Park, guests can observe more than 1,500 free-flying butterflies from 80+ species in a tropical conservatory. The conservatory is a division of the Missouri Botanical Gardens. The Butterfly House is open Tuesdays through Sundays, and guests can reserve a tour of the facility that's recommended for ages 5 and up. Little ones can enjoy a fantastic playground next to the Butterfly House.
Spanning six blocks, the Loop has everything from music clubs to coffee shops to boutiques. Stroll along the sidewalk and take in the St. Louis Walk of Fame, honoring 150 St. Louis natives, or take the Loop trolley for a unique tour of the neighborhood. Enjoy the eclectic neon signs at night, take in the neighborhood's vibrant live-music scene, or check out Pin-Up Bowl. If you're hungry, there are 46 multinational restaurants and 13 American restaurants including the iconic Fitz's root beer factory and restaurant.
Whether you want to see homes dating back to the 1904 World's Fair or play chess on the sidewalk outside the World Chess Hall of Fame (featuring the world's largest chess piece), Central West End is sure to keep your family entertained. Grab an old-fashioned favorite at Pharoahs Donuts and pop by Left Bank Books for a good read. Chase Park Plaza Hotel features a five-screen cinema in a historic setting, and the Cathedral Basilica houses the largest collection of mosaics in the world.

Have sky-high adventures at Go Ape. Photo courtesy of Go Ape Zipline and Adventure Park
For the adrenaline junkies in your family, a visit to Go Ape is sure to prove exhilarating. The park features 45-foot-high tree-to-tree crossings, daring zip lines, swings, and rope ladders that promise thrilling aerial adventures. The park provides beautiful views of the surrounding Creve Coeur Lake Memorial Park property. Gloves are required, so be sure to bring your own if you don't want to purchase them there.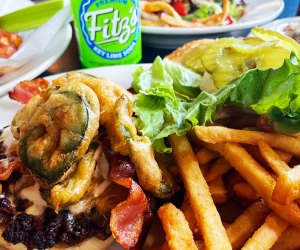 Top off a day of sightseeing with burgers and craft root beer at Fritz's. Photo courtesy of the restaurant
Must-Try Food and Restaurants St. Louis has to Offer
The 15-acre City Foundry, which debuted in August 2021, boasts 16 kitchens and six shops. Your inner foodie will delight in the wide array of dining options in the food hall, which currently includes Creole and Caribbean cuisine, rotisserie chicken, pizza, burgers and shakes, tacos, cheesecakes, and more. The space also hosts fun events such as trivia nights and live music.
Opened in July 2020, 9 Mile Garden features a rotation of food trucks serving lunch and dinner. Each day, the company lists the food-truck lineup on its social media. There are a variety of cuisines available, including pizza, tacos and burritos, BBQ, ice cream, and so much more. There is a jumbo screen that features sporting events, theatrical performances, and movies; and live bands take the stage on the weekends.
Pieces is a great family-friendly spot on Saturday and Sunday mornings and afternoons. The dining space has two walls worth of board games that you can check out and play with your family as you eat. There is a small fee to access the 850+ board-game library, but that fee is reduced by each food or drink item you purchase. Additionally, fees for children under 12 years old are waived. Pieces serves a variety of delicious foods including pastries, breakfast burritos, sandwiches, and shareable appetizers. Brunch is served on Saturdays and Sundays from 10am-2pm. Next door is St. Louis Escape, which features seven escape rooms, a retro mini golf course, and an arcade.
Craving some famous St. Louis Italian food? Head to The Hill, which features a variety of interesting Italian restaurants, shops, and galleries. While you can't go wrong with any of the neighborhood's phenomenal restaurants, a few of the best are Anthonino's Taverna, Mama's on the Hill, and Charlie Gitto's on the Hill. If you love baseball history, be sure to check out the childhood homes of Yogi Berra and Joe Garagiola. For a sweet treat, make time for a visit to Gelato Di Riso or Vitale's Bakery. Additionally, the Hill Antique Market is a fun place to find one-of-a-kind treasures.
Blueberry Hill is a famous St. Louis restaurant and live-music venue. The father of rock and roll, Chuck Berry, performed here over 200 times. The menu features a variety of burgers, sandwiches, salads, and more, and the kids' menu includes favorites like chicken tenders and grilled cheese. Kids will love the video games, pinball, photo booth, and display cases filled with pop-culture memorabilia.
Fitz's is a local root beer and craft soda micro-brewery in the heart of the Loop. Enjoy delicious burgers, sandwiches, BBQ, salads, and more from the regular menu while the kids choose from items like pizza, corn dogs, and mac and cheese from the kids' menu. Be sure to save room for a famous Fitz's float, shake, or malt!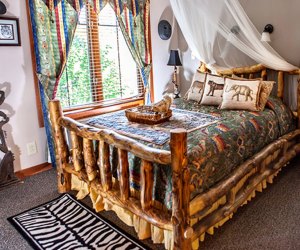 Stay in a uniquely themed guest room, like the Safari Room, at The Lodge at Grant's Trail. Photo courtesy of the lodge
Great St. Louis Hotels for Families
This St. Louis icon since 1894, now a Hilton hotel, oozes historic charm. The elegant archways and decor of its famous Grand Hall are still there, and there's also a seasonal outdoor pool, a fitness center, and an on-site restaurant. Connecting and pet-friendly rooms are available. Families can also enjoy a 3D light show featuring dramatic flames and a 100-foot waterfall.
This rustic and elegant bed and breakfast features nine uniquely themed guest rooms. Families can book the adjoining Abe Lincoln Suite and Mary Lincoln Room, or they can sleep separately in the Safari Room, the Alaska Room, the ADA-accessible Christmas Room, and others. Each room has a full private bathroom and a fireplace, and a hot breakfast is included each morning. Families can gather in the large Great Room, in the Green Room with its twinkle-light ceiling, or on the patio complete with a stone fire pit.
The Moonrise Hotel is a unique, space-themed boutique hotel on the Loop showcasing the world's largest man-made moon on its roof. The interior features lobby walls that constantly change colors, a lighted staircase, display cases full of lunar toys and rare space memorabilia, and more quirky touches. The hotel also boasts the award-winning Eclipse Restaurant, a 24-hour fitness center, and a rooftop bar and lounge. Both standard rooms and suites are available.
All photos by the author unless otherwise noted